Maintaining and ensuring that art and jewellery collections are valued correctly is fundamental to having the right insurance in place.  As our brokers are aware, underinsurance is an issue which can cause considerable problems in the event of a claim.  Markets constantly fluctuate and trends change on a regular basis so expert advice should be sought to confirm that insured values are up to date.
In trying to find a solution to the underinsurance issue, we regularly work with, and recommend, Gurr Johns, the Art Appraisal and Art Advisory Group. They have introduced an appraisal service whereby each client receives an initial valuation and then an annual report which automatically updates the values of the collection. This data is all held within a secure platform, so that clients can be assured their assets are valued correctly on an annual basis.  In doing so the issue of underinsurance in the event a claim is mitigated.
Gurr Johns recently provided the following example of how underinsurance can creep up: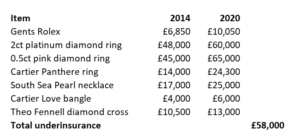 Please contact us if you require any advice regarding insuring Art, Jewellery or any other collection.  If you would like more information regarding the Gurr Johns annual updating service please find their details here Art Appraisals & Valuations | Gurr Johns.